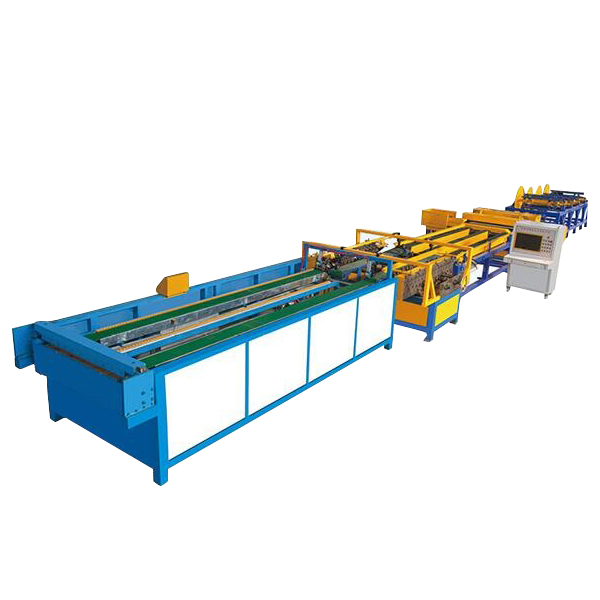 auto duct machine
Features:
* Linear structure reduces sheets transferring time and improve production efficiency.
* The material frame is controlled by the speed adjustable converter motor
* 10 Rollers for leveling and grooving which ensure the flatness of sheet metal for various thickness
* with material processing saving mode, users can reduce the waste of sheet metal significantly to less than 20mm per material coiler.
* with features of servo motor driven in folding process and accurate positioning, it has the obvious advantage especially when produce the square shaped duct.
* The input adopt two modes: screen tough and keyboard input which ensure stability of the system.
* require only one person to operate the machine, two persons can take away the ducts.
* The speed of each part can be adjusted as needed.
* A processing counting function for statistics and management with day count and total count.
* support print function for production management.
Main Functions:
This line is mainly for producing square ducts with TDF flange/angle steel flange, the processing capacity is 1000-2000square meters per day. After input the dimensions of the ducts you want to process, then the machine can complete the following functions: uncoiling, leveling, beading, notching and punching, shearing, pittsburgh locking, TDF flange forming/angle steel flange forming and hydraulic folding.
Optional material auto stacking system
Basic configurations:
* A motor-driven material feeding frame(4 coils; the max loading per coiler is 7tons)
* Optional 8tons or 10 tons of hydraulic material frame
* A material supporting frame
* A main machine
* A manipulator for material clutch, transferring and positioning platform.
* A movable high-speed Pittsburgh lock forming machine
* A duplex angle steel flange forming machine
* A duplex TDF flange forming machine
* A servo-motor driven material feeding platform
* A TDF Hydraulic folding machine
* A CNC system and a set of production software